Posted on: 05 July 2011
CamCard BCR (Western) Android Features:
-Automatically crop and improve the image of the card before storing in the card holder.
-Options to save the contact number / Gmail / Exchange.
-It automatically recognizes the type of language content of the image of the card.
Automatically rotate the image-card
-Batch shot or importing images from the card to the recognition
QR-code generation for the content of the contact
QR-code recognition contact content
-Email signature recognition
-Double-side business card image capture
- Finding contacts in the cardholder
-Export contact as vcf file or Excel on the cardholder
-Add note
-Password protection
-Support for the invitation or search Likedin
-Support business card recognition for English, Danish, Dutch, Finnish, French, German, Hungarian, Italian, Norwegian, Portuguese, Spanish and Swedish
-Requirements:? Android2.x, auto focus camera, support Nexus desire Galaxy Droid, etc.
CamCard BCR (Western) Applications for Android
CCamCard card reader is the better business. You can capture images of business cards with the phone camera to recognize based on the contents of the card image and the result is automatically recognized and organized as a contact stored in the phone book and address of the card holder. In addition, CamCard contains many useful features such as the recognition of e-mail signature, QR code generation and recognition, the export files to Excel, etc.
Download link:

http://www.mediafire.com/?e1sirrnbjow4nqm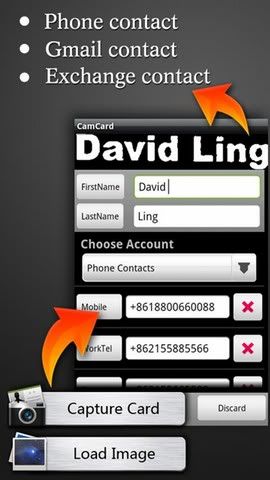 Related Posts
RULE :

DILARANG KERAS KOMEN KASAR BOS !! Anda disini ga BAYAR sepeserpun untuk semua informasi yang telah kami berikan. Sering kali kami melihat oknum2 ga tau malu komentar seenaknya, apabila ada link yang error itu wajar, karena kami bukan pengelola server aplikasi / games yang di hostkan
Tagged as: android card business apps, android mobile camcard, Aplikasi Android, aplikasi android gratis, application business card, business card android, camcard android mobile, CamCard BCR (Western) Android Apps, Capture business card, free applikasi android, gratis aplikasi, gratis Aplikasi Android, gratis aplikasi android mobile
Published by aplikasiandroid | Under Aplikasi Android, APlikasi Telpon, gratis Aplikasi Android, Office
If you like this blog please take a second from your time and subscribe to my RSS Feed